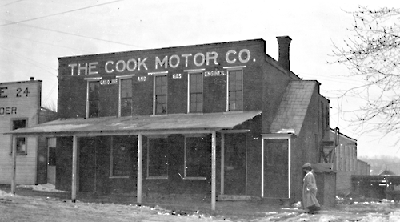 Denison Hydraulics Inc., originally known as The Cook Motor Co., was founded in 1900 in Delaware, Ohio, as a manufacturer of heavy duty industrial gasoline engines. The main problem was that they were big, heavy, and only single cylinder. For example, a typical 50hp engine weighed 3 tons.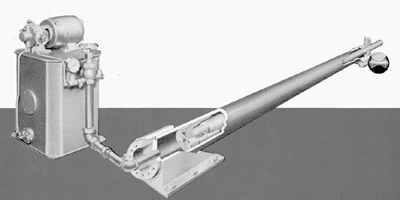 After World War I, Mr. Cook wanted to retire. Bill Denison took over just as the engine market was dying. He continued to operate under the original Cook Motor Co. name. In 1925, Mr. Denison invented a hydraulic car pusher. It was designed to slowly move cars full of clay-ware through a kiln - decidedly the newest invention of the day owning over 80% of the hydraulic market. It was the first hydraulic machine.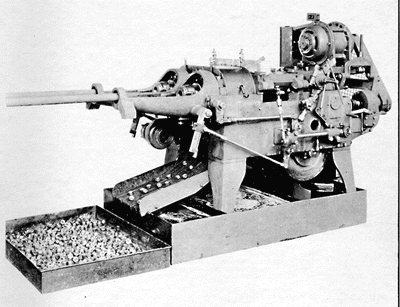 Shortly after getting the new car pusher developed, there was a business recession. The new art of hydraulics pulled them through. The name HydrOILic was then used to identify this new method of power transmission. Cook Motor Company went into receivership.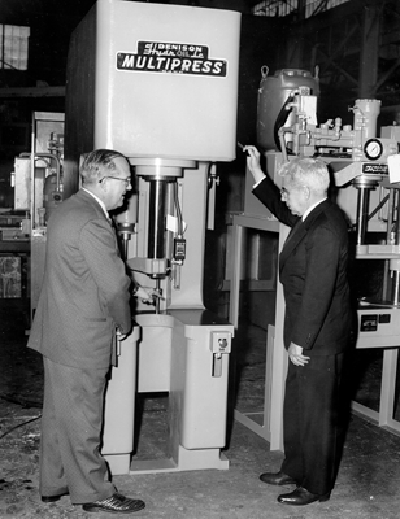 Bill Denison was able to reorganize the company as the Denison Engineering Company. The company survived the Depression, although just barely. One of the early products included the Billet Pusher and the "Compact" Power Unit.
In 1933, a fire destroyed the plant in Delaware. The Budd-Ranney Company had property at the corner of Chestnut and Marconi Blvd. Denison operated under contract with Budd-Ranney Engineering until 1935. Denison then acquired Budd-Ranney - which was maintained for a while as a separate subsidiary. Prior to WWII, Denison was contacted to help with developing test stands and presses to assist in making weapons and aircraft. Presses increased production of airplane engine crankshafts by four times. Presses also permitted "safer" manufacturing of high explosive shells.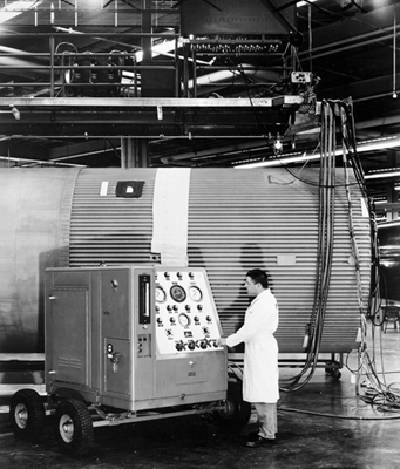 During the war years, Bill Denison bought facilities throughout Columbus and a research center in Powell, Ohio. One of the properties Denison purchased was a property on Dublin Road which would provide for special military needs. Aircraft test stands permitted testing complete hydraulic systems while on the ground and testing hydraulic operated fuel transfer valves for airplanes. Special vacuum chambers tested spark plugs and magnetos.
Suddenly we needed to re-adjust to the civilian market. Denison achieved a reputation of being innovative and aggressive. Bill Denison is shown here demonstrating the Multipress - which became a staple of every factory. A 400 ton Multipress is shown here.
Denison is still known as Denison Engineering. In addition to Multipress, another division was responsible for the manufacture of hydraulic components for the general industry. A separate division was dedicated only to Research and Development. Ideas that were discussed during the "War Years", but shelved, due to lack of time and manpower, now came "off the shelf".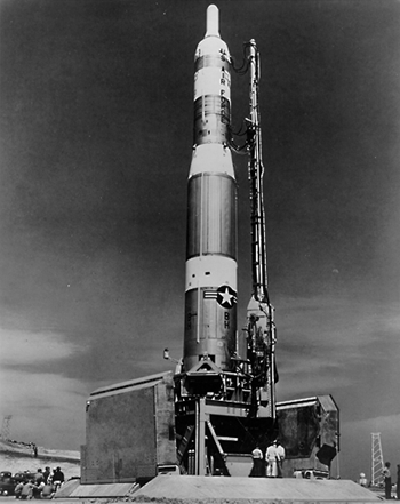 Additional controls for Multipress and many new products for the hydraulic industry were developed. In fact, Denison salesmen had to teach their customers about the merits of hydraulics. In 1945, a new line of high speed, lightweight aircraft pumps were introduced and in 1954, Denison, in cooperation with the U.S. Government, purchased a factory at 425 Sandusky St., Delaware, Ohio.
In addition to other products, the intent was to manufacture aircraft pumps. In 1955, Bill Denison sold his business to American Brake Shoe. He remained president and resided on the Board of Directors. 1956 the aircraft pumps are moved to Rochester, New York and later Oxnard, California. Finally, in April of 1962, the business comes to Marysville.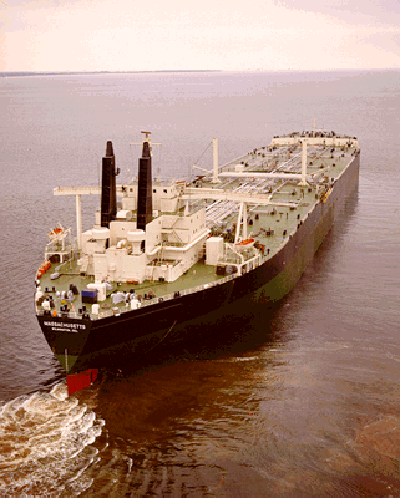 In July of 1962, Denison takes shape and begins to look like a factory. In September or 1962, the entrance was being finished. In October of 1962, the facility in Marysville was almost complete. Still operating as American Brake Shoe, the facility was initially used for manufacturing piston pumps. The Multipress group soon moved in. After the Multipress moved out, the manufacturing facility returned to piston pump production providing special products for the government. In 1966, American Brake Shoe changed their name and identity to ABEX. And in 1968 merged with Illinois Central to become IC Industries.
Throughout the ABEX and IC years, Denison continues to be a leader in the development of high performance products...
Denison, while still operating under ABEX / IC, becomes heavily involved with Marine applications. And in 1986, ABEX / IC sells the Denison division to a Swedish manufacturer of Radial Piston Hydraulic Motors: Hagglunds.
As business slows during the recession of the 1980's, Hagglunds Denison was forced to close and sell several factories. Burgess Hill, England: Delaware, Ohio: Columbus, Ohio. Marysville then becomes the Corporate Headquarters but was also subject to severe cutbacks. Denison split into two groups in 1991: Hagglunds Drives and Hagglunds Denison. In 1993, Hagglunds sold the Denison portion to three private investors. Hagglunds remained a customer of Denison, but no longer retained ownership in the company. The company name was then changed to the current Denison Hydraulics Inc.
The Premier Series of pumps (left, P16/260) represents the latest in innovations of heavy duty hydraulics from Denison. For complete information, specs, drawings, sizes, and performance ratings see our Product Directory.
Denison Hydraulics Inc. has grown tremendously over the years. Denison now spans the globe with worldwide sales offices, worldwide distribution, service and support with approximately 1,100 employees and $158 million in annual sales as a public company.